Trend Analysis
Market Strategy Radar Screen Weekly November 13, 2017
Market Strategy Radar Screen Weekly November 13, 2017
---
In this article:
Stocks edged lower last week and bears again growled

The More Things Change, the More They Stay the Same
Stocks edged lower last week and bears again growled
Key Takeaways
 
Modest declines last week in equity benchmarks were tied more to seasonality, some profit taking, and concerns about tax reform rather than any significant change in fundamentals or overall market tone.

Last week's increase in the 10-year Treasury yield still shows the benchmark at a yield lower than where it started 2017.

With 91% of S&P 500 companies having reported, earnings have surprised to the upside for the fifth consecutive quarter.


A dearth of irrational exuberance and animal spirits in the equity markets counters volatile behavior in Bitcoin at its record levels.

   
With the major stateside indices posting modest declines last week, the bears by week's end seemed to be out in force proclaiming once again the end of the bull market even as earnings reported in the current season continued to surprise positively and monetary policy at the Fed looked steady and committed to interest rate normalization and a tapering of its balance sheet—both of which are happening at modest pace likely not to cause immediate disruption to improving fundamentals or the equity markets in our view.
The yield on the 10-year Treasury edged higher over the course of last week to 2.39% on November 10 from 2.33% on the prior Friday.
We'd note that for all the talk about rates moving higher, the yield on the 10 year has declined slightly from the start of the year when it was at 2.45% and somewhat more from when it climbed to 2.6% in March 2017.
In our view the yield of the 10-year benchmark reflects the market's expectation that inflation will remain low for longer than those of "hawkish interest rate persuasion" believe.
Skeptics on the domestic economy on the other hand point to the two-year Treasury's yield rise to 1.65% from 1.19% at the start of the year. They warn that a flattening of the yield curve signals that the bond market is indicating a slowing ahead or—should the yield curve invert—even a recession.
In our opinion the spread between the yield of the 2-year and the 10-year Treasury currently reflects the Federal Reserve's stated commitment to interest rate normalization at the short end of the curve and the market's reflection on price inflation data that continues to cross the transom (particularly that tied to wage increases) that remains at a modest rather than robust pace.
"Once again we suggest that it's not that things are so great but rather that they are not so bad."
This supports our belief that stateside economic growth is likely to continue at an annualized pace of around 2% to 2.5% even without the current Administration's agenda, (which to date has not shown widespread support from even one side of the Congressional political aisle).
For now we will right size our expectations and look for the equity market to search for reasons to grind higher once it gets through the current season for tax loss selling, rebalancing, and rotation in advance of the calendar year end.
Growth versus Value
"Growth" remains the word for now as "value" remains disfavored but likely waits in the wings for a sign from Washington that would signal corporate tax relief and an economic boost.
In our view, last week's respective declines in the Dow Jones Industrial average, the S&P 500 and the NASDAQ Composite signal a comprehension of the aforementioned conditions rather than a signpost of an impending correction for equities or even a slight "haircut."
That said, we never will underestimate the willingness of markets (and the investors that drive them) to find a catalyst to sell good stocks even if just to take profits particularly when so many of the sectors are showing double digit gains this year (n.b. the S&P 500's information technology sector is up over 27% year to date).
We urge our readers to review the economic and market data that follows this section of our report and provides illustrated detail on pages 3 to 6 of the fundamentals (and gauges that measure their progress) which keep us positive on equities stateside and internationally as the year moves forward to the close.
We speak regularly with both professional and private investors and continue to find no signs of irrational exuberance or animal spirits when it comes to their perception of the equity markets. If anything they are worried that markets have come too far too fast—until they consider the fundamentals that continue to improve and underpin the progress of equities this year.
Once again we suggest that it's not that things are so great but rather that they are not so bad.
Bitcoin and Bubbles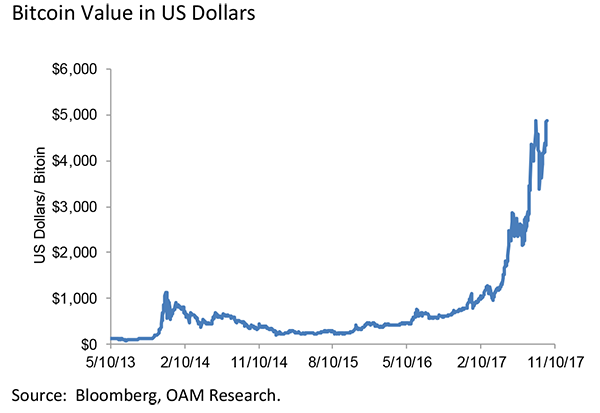 "While Bitcoin has surged well beyond skeptics and detractors' expectations of where it was headed this year, the fact remains there is no apparent patent on the block chain mechanism even if traditional banking and payment platforms adapt the mechanism. "Caveat Emptor" ("buyer beware") remains our adage on bitcoin even as its methodology may gather further interest and even implementation outside its realm.
For the complete report, please contact your Oppenheimer Financial Advisor.
Other Disclosures
This report is issued and approved by Oppenheimer & Co. Inc., a member of all Principal Exchanges, and SIPC. This report is distributed by Oppenheimer & Co. Inc., for informational purposes only, to its institutional and retail investor clients. This report does not constitute an offer or solicitation to buy or sell any securities discussed herein in any jurisdiction where such offer or solicitation would be prohibited. The securities mentioned in this report may not be suitable for all types of investors. This report does not take into account the investment objectives, financial situation or specific needs of any particular client of Oppenheimer & Co. Inc. Recipients should consider this report as only a single factor in making an investment decision and should not rely solely on investment recommendations contained herein, if any, as a substitution for the exercise of independent judgment of the merits and risks of investments. The strategist writing this report is not a person or company with actual, implied or apparent authority to act on behalf of any issuer mentioned in the report. Before making an investment decision with respect to any security discussed in this report, the recipient should consider whether such investment is appropriate given the recipient's particular investment needs, objectives and financial circumstances. We recommend that investors independently evaluate particular investments and strategies, and encourage investors to seek the advice of a financial advisor. Oppenheimer & Co. Inc. will not treat non-client recipients as its clients solely by virtue of their receiving this report. Past performance is not a guarantee of future results, and no representation or warranty, express or implied, is made regarding future performance of any security mentioned in this report. The price of the securities mentioned in this report and the income they produce may fluctuate and/or be adversely affected by exchange rates, and investors may realize losses on investments in such securities, including the loss of investment principal.

 
Oppenheimer & Co. Inc. accepts no liability for any loss arising from the use of information contained in this report. All information, opinions and statistical data contained in this report were obtained or derived from public sources believed to be reliable, but Oppenheimer & Co. Inc. does not represent that any such information, opinion or statistical data is accurate or complete and they should not be relied upon as such. All estimates and opinions expressed herein constitute judgments as of the date of this report and are subject to change without notice. Nothing in this report constitutes legal, accounting or tax advice. Since the levels and bases of taxation can change, any reference in this report to the impact of taxation

 
INVESTMENT STRATEGY
should not be construed as offering tax advice on the tax consequences of investments. As with any investment having potential tax implications, clients should consult with their own independent tax adviser.

 
This report may provide addresses of, or contain hyperlinks to, Internet web sites. Oppenheimer & Co. Inc. has not reviewed the linked Internet web site of any third party and takes no responsibility for the contents thereof. Each such address or hyperlink is provided solely for the recipient's convenience and information, and the content of linked third party web sites is not in any way incorporated into this document. Recipients who choose to access such third-party web sites or follow such hyperlinks do so at their own risk. The S&P 500 Index is an unmanaged value-weighted index of 500 common stocks that is generally considered representative of the U.S. stock market. The S&P 500 index figures do not reflect any fees, expenses or taxes. This research is distributed in the UK and elsewhere throughout Europe, as third party research by Oppenheimer Europe Ltd, which is authorized and regulated by the Financial Conduct Authority (FCA). This research is for information purposes only and is not to be construed as a solicitation or an offer to purchase or sell investments or related financial instruments. This report is for distribution only to persons who are eligible counterparties or professional clients and is exempt from the general restrictions in section 21 of the Financial Services and Markets Act 2000 on the communication of invitations or inducements to engage in investment activity on the grounds that it is being distributed in the UK only to persons of a kind described in Article 19(5) (Investment Professionals) and 49(2) High Net Worth companies, unincorporated associations etc.) of the Financial Services and Markets Act 2000 (Financial Promotion) Order 2005 (as amended). It is not intended to be distributed or passed on, directly or indirectly, to any other class of persons. In particular, this material is not for distribution to, and should not be relied upon by, retail clients, as defined under the rules of the FCA. Neither the FCA's protection rules nor compensation scheme may be applied. This report or any portion hereof may not be reprinted, sold, or redistributed without the written consent of Oppenheimer & Co. Inc. Copyright © Oppenheimer & Co. Inc. 2015.