Trend Analysis
Market Strategy Radar Screen Weekly June 19, 2017
Market Strategy Radar Screen Weekly June 19, 2017
---
In this article:
Sector rotation
M&A
the 10-year Treasury yield near its low for the year accentuate a process of transition

Summertime- the living isn't so easy
Sector rotation, M&A, the 10-year Treasury yield near its low for the year accentuate a process of transition
Key Takeaways
Federal Reserve raises benchmark rate reiterating normalization
Amazon announces largest acquisition in its history
Announced merger rattles stocks in consumer staples and consumer discretionary sectors
Price of oil falls to lowest level in 2017 last week as rig count rises further
10-year Treasury Yield falls to lowest level in 2017 on sluggish economic data
With two weeks left before the end of the first half of the year and with the summer holiday season beginning to get under way, news flow, economic data, sector volatility and second quarter earnings just a few weeks away suggest seasonality will likely not let up anytime soon for investors wanting to get a little r and r.
A recent spate of sluggishness evidenced in economic growth within data points from autos to housing, wages, and jobs to last week's release of the CPI and advanced retail sales—along with the Federal Reserve's reiterated commitment to interest rate normalization via its second 25 bp rate hike this year will likely keep investors close to the radar screen this summer as they look for clues as to what's the next likely catalyst to gain the market's attention.
Further profit taking last week in technology, sector rotation and rebalancing along with Amazon's announcement of its plans to buy Whole Foods Markets (WFM) for $13.7BN provided no lack of excitement last week.
Amazon's (AMZN) bid for the purveyor of finer groceries was its largest acquisition since it started out as a book seller during the tech boom of the 1990s.
The announcement last Friday turned investors' and commentators' attention away from information technology and toward the consumer staples and consumer discretionary sectors.
Within consumer staples grocers and retail pharmacies felt the effect of additional worry as the possible implications and scale of the announced merger were pondered.
"From our perspective on the radar screen, equity markets… are likely to continue to find support from a sustainable economic expansion in the US and international economic recovery…"
The table below of names within the consumer staples and discretionary sectors which were considered among those likely to feel the effects of the wake created by Amazon's announced acquisition plans includes several household names, some of which were already under considerable pressure from the transition from bricks to mortar and to bricks and mortar.
In the commodities complex the cost of oil fell further last week as WTI (West Texas Intermediate oil) fell 2.4% on the week to $44.74 per barrel and just a few cents above its low for the year of $44.46 per barrel reached last Thursday.
A pick up in the Baker Hughes Rig Count since the start of the year (and over the past 12 months) in combination with a pick-up in stateside oil production continues to dog the price of oil as well as efforts and considerable restraint of production by OPEC and its energy allies.
The S&P 500 energy sector last week reflected the drop in oil price slipping 0.7% on the week. The sector is off 11.8% on a year to date basis. That said, the Energy sector has gained a little over 2% since the start of June as it benefited from the sector rotation out of technology into sectors that have underperformed or lagged so far this year.
Among the other sectors which have also benefited from rotation are Financials, Industrials, Real Estate and Utilities. (See the chart below).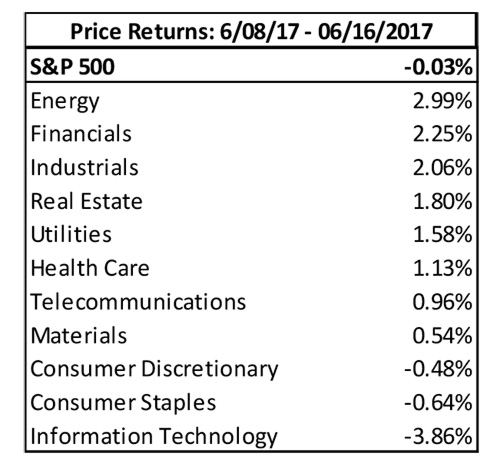 In the week ahead economic data (including existing home sales), any further sector rotation along with several scheduled "Fedspeak" events should keep market participants engaged.
On the international front the implications of the outcome of the French election on Sunday, the process of Brexit in light of recent election results in the UK as well as MSCI's decision on Tuesday as to whether or not the index provider will add Chinese stocks (the local A - shares) to the MSCI Emerging Market index will likely capture investors' attention.
Barron's noted this week that the 169 company candidates being considered for inclusion by MSCI in its widely followed benchmarks are heavily traded blue chip Chinese stocks as opposed to a broader group of 448 stocks considered by MSCI last year.
From our perspective on the radar screen equity markets notwithstanding uncertainties tied to cyclical and secular transitions under way are likely to continue to find support from a sustainable economic expansion in the US (albeit at a modest pace) and an international economic recovery that has become increasingly evident.
For the complete report, please contact your Oppenheimer Financial Advisor.
Other Disclosures
This report is issued and approved by Oppenheimer & Co. Inc., a member of all Principal Exchanges, and SIPC. This report is distributed by Oppenheimer & Co. Inc., for informational purposes only, to its institutional and retail investor clients. This report does not constitute an offer or solicitation to buy or sell any securities discussed herein in any jurisdiction where such offer or solicitation would be prohibited. The securities mentioned in this report may not be suitable for all types of investors. This report does not take into account the investment objectives, financial situation or specific needs of any particular client of Oppenheimer & Co. Inc. Recipients should consider this report as only a single factor in making an investment decision and should not rely solely on investment recommendations contained herein, if any, as a substitution for the exercise of independent judgment of the merits and risks of investments. The strategist writing this report is not a person or company with actual, implied or apparent authority to act on behalf of any issuer mentioned in the report. Before making an investment decision with respect to any security discussed in this report, the recipient should consider whether such investment is appropriate given the recipient's particular investment needs, objectives and financial circumstances. We recommend that investors independently evaluate particular investments and strategies, and encourage investors to seek the advice of a financial advisor. Oppenheimer & Co. Inc. will not treat non-client recipients as its clients solely by virtue of their receiving this report. Past performance is not a guarantee of future results, and no representation or warranty, express or implied, is made regarding future performance of any security mentioned in this report. The price of the securities mentioned in this report and the income they produce may fluctuate and/or be adversely affected by exchange rates, and investors may realize losses on investments in such securities, including the loss of investment principal.

 
Oppenheimer & Co. Inc. accepts no liability for any loss arising from the use of information contained in this report. All information, opinions and statistical data contained in this report were obtained or derived from public sources believed to be reliable, but Oppenheimer & Co. Inc. does not represent that any such information, opinion or statistical data is accurate or complete and they should not be relied upon as such. All estimates and opinions expressed herein constitute judgments as of the date of this report and are subject to change without notice. Nothing in this report constitutes legal, accounting or tax advice. Since the levels and bases of taxation can change, any reference in this report to the impact of taxation

 
INVESTMENT STRATEGY
should not be construed as offering tax advice on the tax consequences of investments. As with any investment having potential tax implications, clients should consult with their own independent tax adviser.

 
This report may provide addresses of, or contain hyperlinks to, Internet web sites. Oppenheimer & Co. Inc. has not reviewed the linked Internet web site of any third party and takes no responsibility for the contents thereof. Each such address or hyperlink is provided solely for the recipient's convenience and information, and the content of linked third party web sites is not in any way incorporated into this document. Recipients who choose to access such third-party web sites or follow such hyperlinks do so at their own risk. The S&P 500 Index is an unmanaged value-weighted index of 500 common stocks that is generally considered representative of the U.S. stock market. The S&P 500 index figures do not reflect any fees, expenses or taxes. This research is distributed in the UK and elsewhere throughout Europe, as third party research by Oppenheimer Europe Ltd, which is authorized and regulated by the Financial Conduct Authority (FCA). This research is for information purposes only and is not to be construed as a solicitation or an offer to purchase or sell investments or related financial instruments. This report is for distribution only to persons who are eligible counterparties or professional clients and is exempt from the general restrictions in section 21 of the Financial Services and Markets Act 2000 on the communication of invitations or inducements to engage in investment activity on the grounds that it is being distributed in the UK only to persons of a kind described in Article 19(5) (Investment Professionals) and 49(2) High Net Worth companies, unincorporated associations etc.) of the Financial Services and Markets Act 2000 (Financial Promotion) Order 2005 (as amended). It is not intended to be distributed or passed on, directly or indirectly, to any other class of persons. In particular, this material is not for distribution to, and should not be relied upon by, retail clients, as defined under the rules of the FCA. Neither the FCA's protection rules nor compensation scheme may be applied. This report or any portion hereof may not be reprinted, sold, or redistributed without the written consent of Oppenheimer & Co. Inc. Copyright © Oppenheimer & Co. Inc. 2015.