Trend Analysis
Market Strategy Radar Screen Weekly March 05, 2018
Market Strategy Radar Screen Weekly March 05, 2018
---
In this article:
A series of perfect yet unrelated storms roiled markets late last week

There's Never an "All Clear" Signal
A series of perfect yet unrelated storms roiled markets late last week
Key Takeaways
Stock markets around the world expressed shock last week at the potential for protectionist actions by the United States
US stocks ended lower from where they started the week but managed to rally some Friday.
Economic data persists positive, indicating sustainability of expansion.
Markets are assessing the risk to current growth stateside and abroad should protectionist measures be implemented (bringing potential for retaliation).
A confluence of factors came together last week to create what seemed to us a series of perfect yet unrelated storms caused by sources as diverse as the weather, the White House, political matters and Presidential dictums all of which caused folks from Wall Street to Main Street to sit up, take notice and cope.
So far 2018 is presenting itself as an on again / off again year for the markets as transitions abound across the landscape generated in part by agenda items wielded by an unconventional Presidency, the uncertainty surrounding the policies of a new Chairman at the Fed, and the business community's (so far) broadly positive response to tax reform. On their own, each has the potential to generate catalysts for the markets and cause investor reactions of positive as well as negative consequence to stock prices.
The latest catalyst for market action appeared disconcertingly last week as a whiff of protectionism came from news that the implementation of tariffs against foreign steel makers and aluminum producers could be imminent. Such action could complicate the process of markets digesting multiple transitions that are already in progress.
We worry that those who somewhat glibly support protectionism have yet to realize how infinitely more complex such action could be in comparison to say the Tax Reform that was rammed so quickly through Congress in the last quarter of the year.
Accountants representing both individuals as well as corporations whom we have spoken with since tax reform became law are still digging their way through the morass of detail in the law—some of which we've read appears unclear and contradictory in meaning and to interpretation.
With this latest development from Washington comes no small degree of irony as some of the nations targeted by the proposed protectionist measures just happen to be major trading partners of the US (Mexico and Canada). Both countries are key components in the chain of cross-border suppliers and sub-manufacturers working with American manufacturers—including auto makers.
"Perhaps the talk of tariffs and hostile gesticulation toward foreign trade as it exists today will merely serve as prelude to productive negotiations in the near future."
Just as the fundamentals (economic and corporate) appeared to be showing near "irrefutable" signs of sustainability here and around the world, prospects for protectionist actions have appeared on the scene loud and ugly, and which could bring equally unsavory retaliation from around the world.
For now it appears too soon to draw conclusions as to just how disruptive to global trade these protectionist tariffs would be to trading partners and the economies (including America's) involved. Until considerable detail is provided by those who will be assigned the task of implementing such measures, markets could likely churn in place.
From our perspective we can't recall a positive outcome from protectionist policies over the course of our country's history.
Our historic recall does not find protectionism to have been a practical solution to unfair trade practices or to addressing trade agreements from a prior era that are on the verge of becoming anachronisms in a digitalized, globalized world. We raise concern that in a world so steeped in globalization and borderless technological application, protectionism might likely destroy more than it would fix.
Perhaps the talk of tariffs and hostile gesticulation toward foreign trade as it exists today will merely serve as prelude to productive negotiations in the near future. Time will tell. Patience will be required of investors for now.
The markets initially responded negatively early on last week when protectionism re-appeared high on the President's agenda.
However, as Friday unfolded it appeared that cooler heads prevailed, negative projection dissipated and the stock market closed higher on the day and ahead of the weekend.
However, for the week through last Friday the S&P 500, the S&P 400 (mid-caps), the Russell 2000 (small caps) and the Nasdaq Composite (some 40% weighted in tech and techrelated shares) respectively shed 2.04%, 1.35%, 1.03% and 1.08%.
Developed foreign markets and emerging markets fared worse than their US counterparts last week with MSCI EAFE (developed markets ex-US and Canada) and the MSCI Emerging markets respectively falling 2.91% and 2.83%. MSCI Frontier Markets performed better, easing 0.51% lower last week.
The Week Ahead
This week will keep investors plenty busy as they seek more information as to what protectionist action might actually look like and whether or not there will be exclusions of such policy when dealing with allies and strategic partners.
There will also be plenty of economic data crossing the transom this week including:
Today (Monday): ISM non-manufacturing composite;
Tuesday: Factory orders; durable goods orders; capital goods orders.
Wednesday: ADP Employment; Non-farm productivity; Unit labor costs; the trade balance; Federal Reserve's Beige Book; consumer credit.
Thursday: Initial Jobless claims; household change in net worth;
Friday: Change in non-farm payrolls; the unemployment rate; average hourly earnings; labor force participation rate; wholesale inventories.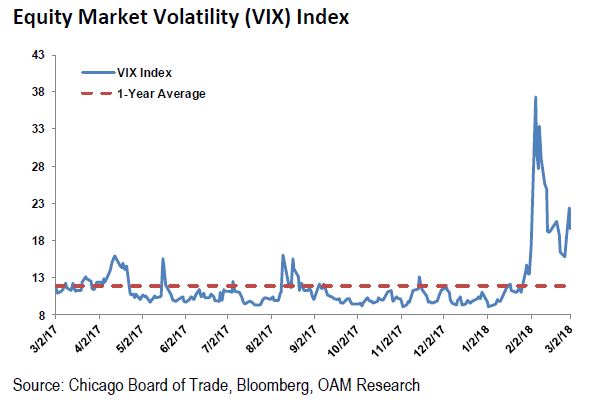 The VIX remains elevated even as it has declined some 47.6% from the level to which it had spiked on February 5. It remains 64% above its average level over the past 12 months. Further episodes of volatility should be expected as the transition of Fed leadership and process of interest rate normalization move forward, and markets consider the impact of protectionist measures.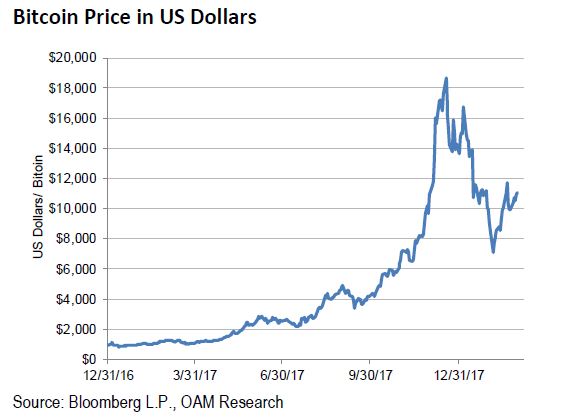 Bitcoin, the crypto currency, has rallied 36% from its recent low though last Friday but remains 40% off of its peak.
For the complete report, please contact your Oppenheimer Financial Advisor.<
Other Disclosures
This report is issued and approved by Oppenheimer & Co. Inc., a member of all Principal Exchanges, and SIPC. This report is distributed by Oppenheimer & Co. Inc., for informational purposes only, to its institutional and retail investor clients. This report does not constitute an offer or solicitation to buy or sell any securities discussed herein in any jurisdiction where such offer or solicitation would be prohibited. The securities mentioned in this report may not be suitable for all types of investors. This report does not take into account the investment objectives, financial situation or specific needs of any particular client of Oppenheimer & Co. Inc. Recipients should consider this report as only a single factor in making an investment decision and should not rely solely on investment recommendations contained herein, if any, as a substitution for the exercise of independent judgment of the merits and risks of investments. The strategist writing this report is not a person or company with actual, implied or apparent authority to act on behalf of any issuer mentioned in the report. Before making an investment decision with respect to any security discussed in this report, the recipient should consider whether such investment is appropriate given the recipient's particular investment needs, objectives and financial circumstances. We recommend that investors independently evaluate particular investments and strategies, and encourage investors to seek the advice of a financial advisor. Oppenheimer & Co. Inc. will not treat non-client recipients as its clients solely by virtue of their receiving this report. Past performance is not a guarantee of future results, and no representation or warranty, express or implied, is made regarding future performance of any security mentioned in this report. The price of the securities mentioned in this report and the income they produce may fluctuate and/or be adversely affected by exchange rates, and investors may realize losses on investments in such securities, including the loss of investment principal.


Oppenheimer & Co. Inc. accepts no liability for any loss arising from the use of information contained in this report. All information, opinions and statistical data contained in this report were obtained or derived from public sources believed to be reliable, but Oppenheimer & Co. Inc. does not represent that any such information, opinion or statistical data is accurate or complete and they should not be relied upon as such. All estimates and opinions expressed herein constitute judgments as of the date of this report and are subject to change without notice. Nothing in this report constitutes legal, accounting or tax advice. Since the levels and bases of taxation can change, any reference in this report to the impact of taxation


INVESTMENT STRATEGY
should not be construed as offering tax advice on the tax consequences of investments. As with any investment having potential tax implications, clients should consult with their own independent tax adviser.


This report may provide addresses of, or contain hyperlinks to, Internet web sites. Oppenheimer & Co. Inc. has not reviewed the linked Internet web site of any third party and takes no responsibility for the contents thereof. Each such address or hyperlink is provided solely for the recipient's convenience and information, and the content of linked third party web sites is not in any way incorporated into this document. Recipients who choose to access such third-party web sites or follow such hyperlinks do so at their own risk. The S&P 500 Index is an unmanaged value-weighted index of 500 common stocks that is generally considered representative of the U.S. stock market. The S&P 500 index figures do not reflect any fees, expenses or taxes. This research is distributed in the UK and elsewhere throughout Europe, as third party research by Oppenheimer Europe Ltd, which is authorized and regulated by the Financial Conduct Authority (FCA). This research is for information purposes only and is not to be construed as a solicitation or an offer to purchase or sell investments or related financial instruments. This report is for distribution only to persons who are eligible counterparties or professional clients and is exempt from the general restrictions in section 21 of the Financial Services and Markets Act 2000 on the communication of invitations or inducements to engage in investment activity on the grounds that it is being distributed in the UK only to persons of a kind described in Article 19(5) (Investment Professionals) and 49(2) High Net Worth companies, unincorporated associations etc.) of the Financial Services and Markets Act 2000 (Financial Promotion) Order 2005 (as amended). It is not intended to be distributed or passed on, directly or indirectly, to any other class of persons. In particular, this material is not for distribution to, and should not be relied upon by, retail clients, as defined under the rules of the FCA. Neither the FCA's protection rules nor compensation scheme may be applied. This report or any portion hereof may not be reprinted, sold, or redistributed without the written consent of Oppenheimer & Co. Inc. Copyright © Oppenheimer & Co. Inc. 2015.